A ribbon cutting ceremony on Thursday, April 20 officially opened two new personal watercraft access sites on Ohio Brush Creek off SR 348 and SR 125 in Adams County.
Perfect weather and ideal waterways awaited the nearly 50 people who turned out for the three-mile canoe and kayak inaugural float.
Bill Wickerham, Wildlife Specialist for Adams Soil and Water called the event a "good hands-on, feet-wet opportunity" that could draw tourists to the county.
"People will see this as a destination now," siad Wickerham. "We've got these two new public access sites, plus the one down at Creek's Bend so visitors can make the trip however long they want now."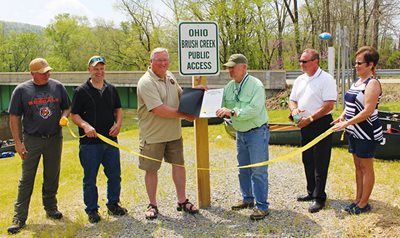 The new access sites were the brainchild of Tom Cross, Director of the Adams County Travel and Visitors Bureau (TVB), who partnered with both the Ohio Department of Natural Resources (ODNR) and the Ohio Department of Transportation (ODOT) to tap into the growing trend of canoe and kayak recreation.
"That was the idea behind it all," Cross said. "The two new canoe access sites will open recreational opportunities for visitors and residents and will provide a boost to ecotourism and appreciation of Adams County's outdoors for years to come."
According to the ODNR, canoes and kayaks are the fastest growing segment of watercraft recreation.

Mike Miller, from ODNR's watercraft division, called the new sites "inviting" and "accessible" to recreational boaters.
"On a scale of 1-to-10, they're a 9 or 10," he said. "When you pull up to the access sites you have a nice parking area, it's well signed, and it gives you a 'hey, let's go paddling' feeling.. The sites are well designed and constructed, and I think they will be a great asset to Adams County's ecotourism industry."
A $15,000 grant from ODNR provided all the funding necessary to develop the two sites. ODOT provided the locations, new signs, and improved the parking area at the St. Rt. 125 bridge.
Brush Creek's tendency to swell over its banks was a major factor in the final design of the sites which feature stair step timbers held in place by concrete anchored to the underlying bedrock.
Comparing the sites to others in similar flood-plain environments, long time paddler Martin McCallister of the Adams County Nature Conservancy praised the sites' designs, calling them a wise investment for the local economy.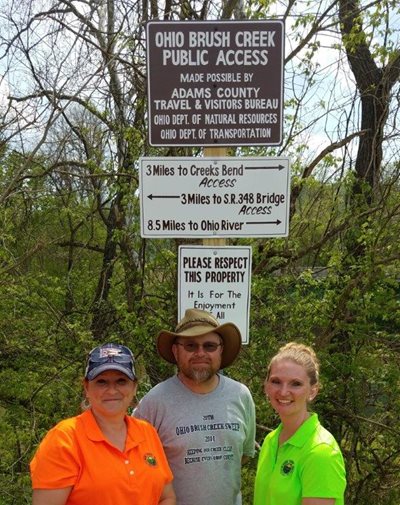 "This was a small investment that will yield great rewards because people will come here to canoe the stream who wouldn't have come before because there wasn't an easy place to get in and out," he said. "When they come here to paddle of course they'll have to stop and buy gasoline and lunch, and maybe, if they're out for the weekend, they might even get a place to stay. Eco-tourism is one of the few aspects of the local economy that is aggressively growing and diversifying, and these small investments that continue to encourage ecotourism are very important to the local economy."
Hannah Lubbers, who was canoeing Brush Creek for the first time, said she was impressed with the stream's pristine condition.
"I spend time on the Little Miami River and this one smells much nicer," she said. "It's very clean, the water is clear, and we saw a lot of wildlife – it's a beautiful stretch of water, and it was a really great float."
Cheryl Greene, who was also canoeing for the first time on Brush Creek, called the experience peaceful and relaxing, despite having her canoe capsize.
"The view along the way was wonderful," she said. "I've lived in the Brush Creek area all these years and have never been on the water. It was really neat, even though I took a spill, I didn't mind, it was refreshing, and I'm glad I had the opportunity."
Canoes and life jackets for the 1.5 hour float were supplied by Adams County Soil and Water. Miller's Bakery and Furniture served coffee and donuts prior to launch, and lunch, catered by Prather's IGA, was provided by Ty Pell Associate Surveyors.

Article written by Pat Beech published in the People's Defender for the April 26, 2017 edition.